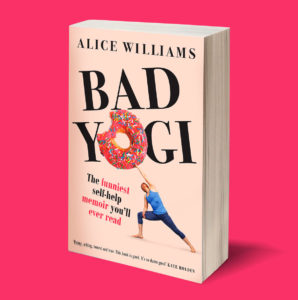 'Yoga glamazons are not my tribe. My tribe are aqua crew-cut goddesses who smell like samosas. My tribe are neurotic corporate banshees. My tribe are seven different lineages that all lead to the same destination …'
When Alice Williams gets 'phased out' of her dream job, all the demons she usually silences with food start to get too loud to ignore. Unemployed and depressed, she makes the ultimate middle-class, white-girl life change: she signs up to become a yoga teacher.
BAD YOGI is the 'healing' memoir for people who hate healing memoirs, a delightful peek at the life-changing truth that lies behind all the gurus and jargon.
New book with Affirm Press out now. To order click here. More about it in the clip below: